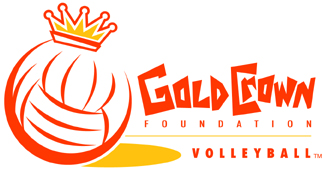 MONARCH GOLD CROWN
JUNIOR HIGH VOLLEYBALL
The Gold Crown Foundation runs a Junior High volleyball program in the early fall for girls in 5th – 8th grades. Gold Crown Volleyball is a developmental league for girls interested in the sport.This volleyball league has become a "one-of-a-kind" league and serves girls from Pueblo to Berthoud.
The teams are formed based on your home high school area. Flatirons VBC hosts the teams for the Monarch High School area. (If there isn't a Gold Crown program offered in your home high school area, then you are free to try out for the Monarch Gold Crown program, or a Gold Crown program in another area).
The Monarch Gold Crown teams will practice on Mondays and Wednesdays at Eldorado K-8 School at 3351 South Indiana Street, Superior, CO from 6:15-8:15 pm starting September 8. (No practice on Labor Day, Sept. 6.)
The number of teams we can field is dependent upon the number of girls trying out and the availability of coaches.
The matches are held on Saturdays or Sundays starting September 25th at the Gold Crown facility in Lakewood. They are double headers with the possibility of being off a match in between.
The season ends around the end of October.
There is no fee for tryouts.
The total fee for team membership is $260. The Gold Crown portion is $160 payable at online registration. The Flatirons Volleyball Club portion is $100 to cover gym rental expense plus tournament cost. This is payable by check to Flatirons Volleyball Club. The check can be mailed to
Flatirons Volleyball Club
2770 Arapahoe Rd Suite 132
Lafayette, CO 80026
or you can bring the check to the first practice and hand it to the coach.
This year, Flatirons coaches are not available to coach Gold Crown teams so we'll need a volunteer parent or a volleyball adult coach for each team. Background checks and coach training is required. If you are able to coach or can recommend an experienced person to coach, please let us know right away.
Additional information is posted at goldcrownfoundation.com/volleyball 
You can join our email list at monarchgcvb@gmail.com (and please tell your friends). 
Kerrilyn Garde and Susan Cancilla
(303) 543-7605
monarchgcvb@gmail.com