Success Stories

 Flatirons alumni Karysa Swackenberg flying high at Rutgers Volleyball!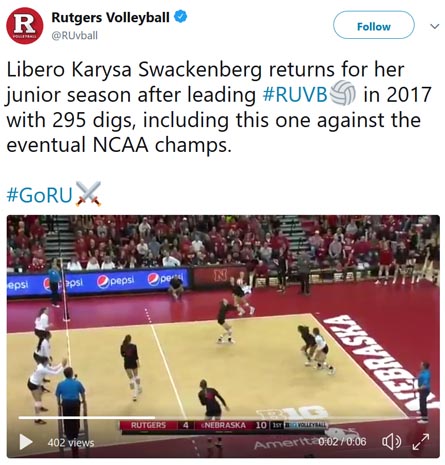 Where have Flatirons players gone to college?
Following is a list of the colleges that Flatirons players have played at:
(If you played at Flatirons and you're not listed, please let us know)
Player/College
Kate Kimbro: Lewis & Clark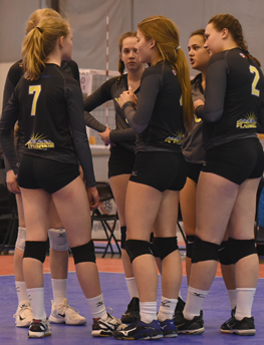 Bailey Carsten: Elizabethtown
Sophie Wingert: Point Loma Nazarene
Kendra Swackenberg: Ft. Lewis
Karysa Swackenberg: Rutgers
Lauren Rainey: Cal Lutheran
Keegan Sakolsky: College of Saint Marys, Omaha
Addy Lofstedt: NAU
Kendall Petersen: Lynn U.
Delaney Romyn: Boise State Club Team
Taelor Brown: Laramie Community College
Lexi Laschinger: Hastings College
Taylor Jordan: Hastings College
Brynne Hazzard: Allegheny College
Hannah Safari: DU
Mariah Schamp: Concordia University, NE
Michelle Betsinger: Luther College
Sammie Dahl: Central Christian College
Rachel Renville: Milligan College
Ashton Collins: TCU club team
Hali Groninger: Fort Lewis College
Stephanie Hunnel: Trinidad Community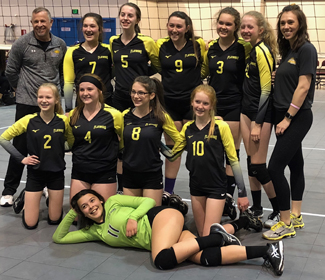 College
Lea Norberg: University of Colorado Club Team
Lizzie Hutton: crew at Princeton
Kelly Tycksen: Simpson University
Jenna Cowie: Fairleigh Dickinson at Florham
Hanna Gibeau: Long Island University
Emily Alexis: University of Colorado
Tess Udall: University of Virginia
Kristina Lavrisha: Gonzaga University
Logan Boyer-Hayse: Occidental College, CA AVCA All American
Taylor Hillberry Fort Lewis College
Lauren O'Donnell: Evangel University
Emily Weingartner: Biola University
Sarah Keiter: Regis University
Betsy Smartt: Stanford University Club Team
Berlin Wright: Arizona State University Club Team
Dom Keeter: Iowa Central Community College
Jesse Osborn: Scripps College, CA
Danica Reed: Willamette University, WA
Ong Ly: Pratt College, Kansas.
Kirsten Bladek: Santa Monica City College, Johnson and Wales
Danielle Duncan: Northwestern Community College
Sara Coe: Trinidad Community College
Lizzy Rhoads: University of Northern Colorado
Molly Hayes: University of Colorado Club Team
Nicole Vinson: University of Puget Sound
Lauren Thompson: University of Oregon Club Team
Rachel Ross: Virginia Commonwealth University; Regis University
Breezy Tuck: Northeastern Jr. College; Metro State College
Danielle Anderson: Lander University
Jordan Swisher: Ohio Wesleyan University
Nichole Berger: University of Nebraska at Chadron
Jamie Dwyer: Graceland University
Amy Krill: New York University
Tynet Calhoun: Western State
Gabrielle Curtis: Metropolitan State College Denver;
University of California at Bakersfield
Andrea Tuck: University of Wyoming; Adams State
Dani Aigaki: Biola University, CA
Carly Lacey: Fort Lewis College
Ree Enny: Louisiana Tech
Carissa Janzen: Colorado School of Mines; Mines Club Team
Kayla Govier: University of Wyoming; State University of New York at Buffalo
Adrianna Alexis: Bethany College
Emily Dewey: Georgia State University
Kelsie Dodson: Colorado School of Mines Club Team
Jordan Sisson: Saint Leo University
Elizabeth Stewart: Kansas State University Club Team
Alyssa Bonelli: University of Denver
Heather Toth: York College
Lauren Flanagan: Adelphi University, NY
Elizabeth Balch: Claremont McKenna, CA
Trisha Ponder: Colorado Christian University
Bethany Hight: U of Denver Club Team
Mandi Grasser: Adams State
Melissa Jones: Baylor (basketball)
Brittany Larson: Northern Arizona U, Central OK
Bridget Buckley: Christian Brothers U, TN
Tina Nance: Colorado Christian University
Erin Kilty: Metro State College Denver
Brittni Buckallew: CSU @ Pueblo
Jenna Kaiser: Francis Marion University
Jacey McDaniel: University of St. Thomas, MN
Kendra Buckmaster: Northeastern Jr. College
Gwen Clarke: Armstrong Atlantic University
Marcella Fremgen: Western State College
Aleshia Fremgen: Western State College
Margaret Craighead: CU Club Team
Chelsea Bain: CU Club Team
Shelli Derr: University of South Dakota
Ashley Pestotnik: Amherst
Katie Lanting: Villa Nova
Logan Marlatt: Western State College
Kerrilyn Garde: Newman University
Merri Tilson LaBette Community College
Lauren Enny: S. New Hampshire University
Sara Bruggeman: Amherst
Amy Moffitt: LaBette Community College
Rhonda Messel: Colorado Christian University
Therese Hand: Missouri Western
Ashley Suprenant: Graceland University
Archived Achievements: The success stories of some of our alumni
Former Flatirons VBC player Andrea Tuck was named to the Rocky Mountain Athletic Conference All-Tournament team, and is now an All-American. Way to go, Andrea!
Mandi Grasser: Daily Camera Player of the Year
MHS' Wolny, Grasser earn top honors
 Coach, player led Monarch to best year in program history
By Chris Shelton, Camera Sports Writer
November 23, 2004
LOUISVILLE — When Jeff Wolny became the volleyball coach at Monarch five years ago, he inherited a team that went winless the season before he arrived.
The Coyotes went 9-10 his first year and began a building process that culminated in Monarch's best season ever this fall.
Of course, Wolny had some help.
Senior Mandi Grasser emerged to lead the team in both kills and digs as Monarch won the program's first-ever district title and advanced to regionals for the first time in program history.
For their accomplishments, Grasser was named the Daily Camera's Player of the Year and Wolny received Coach of the Year honors.
"We accomplished our goal of winning a district title," said Wolny, whose 14-11 season was Monarch's best ever, too. "It will help our team and program, knowing that we can compete at that level."
Grasser led the Coyotes in kills with 318 and in digs with 314 — both school records for one season. She also tied with Gwen Clark for the team lead in aces with 44.
"I've been working really hard in volleyball," Grasser said. "But to get the amount of kills I did, I couldn't have done it without our setter (Jessie Avery). And coach helped me become a better player, working with me all the time. That's how I was able to get the stats I did."
Athleticism runs in Grasser's genes. Her dad, Dean, played football for Fairview, graduating in 1971.
But it was her mom, Vicki, a graduate of Lincoln, who encouraged Mandi to play volleyball.
"I love it now, so I'm glad she made me," Mandi said.
Grasser began her volleyball career as a setter. Last year she served as a middle blocker for Monarch before moving to outside hitter this year. The transition from position to position was easy for her because of all her experience playing club volleyball for Flatirons Volleyball Club in Superior.
Her leadership was vital to Monarch, as well, and she served as the team's captain.
"You usually get somebody who's a pretty solid player, but Mandi was the best in terms of everything," Wolny said. "She's more of a textbook player. She does the things as they should be done. … She was the player all the kids looked up to when they went on the court."
First Team
Kristen Anderson, Sr., Niwot, M
Mandi Grasser, Sr., Monarch, OH
Kyra McGee, Sr., Shining Mountain, OH
Bridget Roberts, Jr., Fairview, OH
Evan Sanders, Fr., Centaurus, OH
Jenni Wong, Sr., Alexander Dawson, S
Second Team
Carrie Barber, Jr., Alexander Dawson, M
Kelsey Bloomquist, Jr., Centaurus, OH
Gwen Clarke, Jr., Monarch, OH
Liana James, Sr., Fairview, DS
Pam Johnson, Sr., Longmont, Opp.
Korin Stonacek, Sr., Shining Mountain, S
Honorable Mention
Jenna Bohnen, So., Erie, OH
Meryl Colton, So., Alexander Dawson, OH
Jenna Kaiser, Sr., Broomfield, S
Bailey Thompson, Sr., Fairview, M
Jenny Meckle, Sr., Lyons, M
Emily Venrick, Sr., Silver Creek, OH
Brittany Larson commits to Northern Arizona
NAU Volleyball Signs Three Recruits for 2005 Season
FLAGSTAFF, Ariz. – Northern Arizona University head volleyball coach Chris Campbell has announced the signing of three incoming recruits for the 2005 season. Emily Osiadacz (Ventura, Calif./Buena), Brittany Larson (Thornton, Colo./Horizon) and Alex Fell (Irvine, Calif/Northwood) will all join the Lumberjacks next year.
Larson, a 6-2 rightside hitter, was a three-year letterwinner at Horizon High School where her team was second place in both the league and the district in her senior season. The team also earned its first-ever regional tournament bid this year. During Larson's junior year the team also placed second in the league, and came in first during her sophomore year. In 2003, Larson was invited to the USA High Performance Camp at the Olympic Training Center in Colorado Springs, Colo. Her former club team, the Norco Juniors, was ranked seventh nationally in 2003-04, and Larson currently plays for the Flatirons Volleyball Club 18 and under out of Superior, Colo.
"Brittany has what you're looking for as you build a foundation for a solid volleyball program," said Campbell. "Her height and the fact that she's left-handed give her natural advantages that other players don't have. She comes from a strong volleyball background, and when she gets used to the speed of the college game, her natural strengths will work very strongly in her favor."
Gabrielle Curtis, RMN Athlete of the week, November 20, 2003
Gabrielle Curtis, Ralston Valley senior, made nine kills and two aces in her final high school game, helping her team to a 22-25, 25-22, 25-14, 25-21 victory at the Colorado Coaches of Girls Sports all-state volleyball games.
Curtis, who has signed to play at Metro State, ranked sixth in Class 4A with 70 aces, seventh in kills (284) and second in digs (299) while leading the Mustangs to the state tournament.
VCU's Rachel Ross named Rookie of the Week by CAA

 RICHMOND, Va. – Virginia Commonwealth's volleyball outside hitter Rachel Ross (Boulder, Colo./Boulder) received Colonial Athletic Association Volleyball Rookie of the Week on Monday, Oct. 20. The freshman earned career-highs and two double-doubles during a 2-1 week.
Ross recorded seven kills and 14 digs in a 3-1 win over Radford on Tuesday, Oct. 14. She then posted her second and third double-doubles of the season in VCU's two conference matches over the weekend. The rookie registered 13 kills and a career-high 19 digs in the Rams' four-game loss to William & Mary on Friday. During a 3-1 win over the UNC Wilmington Seahawks, Ross tallied a career-best 14 kills and marked 14 digs. On the week, the freshman outside hitter registered 34 kills for an average of 2.83 kills per game and 47 digs for an average of 3.92 per game.
VCU (9-15, 2-5 CAA) will travel to Harrisonburg, Va., to play conference foe James Madison (9-10, 4-3 CAA), for their lone match of the week, on Saturday, Oct. 25. The Rams will return to the Siegel Center on Nov. 7 & 8 for a pair of conference matches against Delaware and Hofstra.
Wyoming-bound Andrea Tuck named region's top player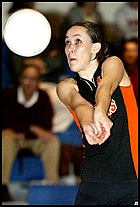 Latest Tuck sister hits new heights
By Chris Shelton, Camera Sports Writer
November 18, 2003
ERIE — Mail arrived nearly every day at the Tuck residence this past year from college programs trying to lure a skinny 6-foot-1 volleyball player from this small town to far-away places.
Schools such as Florida and North Carolina made some of the strongest pitches for the services of outside hitter Andrea Tuck.
But she spurned them all, instead signing last week with a rebuilding, but close-to-home program, the University of Wyoming.
No one was more relieved than her mom and high school volleyball coach, Gaynelle Tuck, who stepped down after this season so she could see her daughters play collegiately. Breezy Tuck plays for Northeastern Junior College in Sterling and Cydell Tuck plays at Adams State.
"I'm so happy she's staying close to home," Gaynelle said. "I couldn't imagine putting her on a plane and saying goodbye. I wanted to have that opportunity to watch them play in college because it all goes by so quickly."
After watching Breezy join a junior college program and Cydell reach the Division II level, Andrea has climbed the highest, going to a Division I program. Other coaches, such as her club coach, Susan Cancilla (a Fairview assistant), say Andrea could have gone to a more prominent volleyball program. Wyoming coaches have told Tuck she may start next year, after she led Erie in four of five statistical categories with 340 kills, 51 blocks, 181 digs, and 32 aces. Tuck was also recognized as one of the best players in Class 3A at Sunday's all-state games.
The recognition doesn't end there. Andrea Tuck earned this year's Daily Camera Player of the Year honors, as well.
Then again, she grew up playing with older sisters who were successful in the sport.
"Everyone in my family has always played volleyball, with my mom being the coach and both of my sisters playing in college," Andrea said. "I just grew up with it. It's cool that everyone's so athletic in my family, but I guess I just don't know anything different."
Actually, she does know something different. She knows what she wants, and that's to move to the windy city of Laramie for the next four or five years.
"It's definitely a plus that it's a small town," Andrea said. "I didn't want to go somewhere like Fort Collins, where the campus is huge and the town is huge."