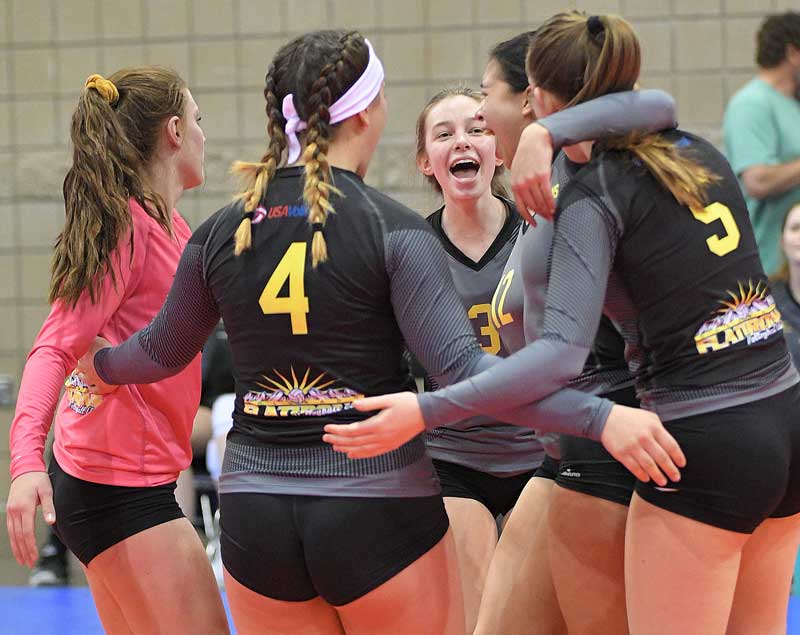 2021-2022 Tryout Registration
Tryout Schedule for 2021-2022 Season
One time Tryout fee of $35 for the season
TRYOUTS ARE ALMOST OVER!
The next scheduled tryout date is Sunday, October 3, from 10 am to noon.

The location is Eldorado K-8 School
3351 S Indiana St, Superior, CO

The tryout is open to all age divisions.

If you want to secure a spot on a Flatirons team but cannot attend that date, contact us at flatironsvbc@gmail.com 
We have openings at each age division.
2021-2022 Season Overview
Flatirons VBC is looking forward to our 23rd season of Junior Olympic Volleyball. We were founded by teachers who were also volleyball players and coaches with the goal of elevating volleyball in Boulder County.  Our reputation is built upon hiring the very best coaches; they are the backbone of our club.  They are dedicated and excited to share their passion for volleyball.  We firmly believe the benefit of life lessons are inherent with team sports, especially volleyball.   
Teams practice three times a week during the training phase of the season until the competitive season begins on January 2.  Prospective practice sites are Alexander Dawson School in Lafayette, Eldorado K8 School in Superior and Meadowlark PK8 School in Erie.  When the competitive season begins, most teams will practice twice a week when they don't have a tournament and three times when they do.  Practices are typically Monday/Wednesday/Saturday or Tuesday/Thursday/Saturday. Because we rent school gyms, there will be occasional, unavoidable cancellations.  
There are three distinct seasons at Flatirons Volleyball Club.  The training season starts in early November through December.  The competitive season begins January 2 and runs till the beginning of May.  The post season is for select teams who want to extend their season.  In addition, we run a Beach/Outdoor Program starting in June and finishing in early August.  Two person teams are training in the strategies and techniques of Doubles Volleyball.  This is an extremely fun, optional program for girls wanting to play outdoor doubles volleyball.  
Tryouts are held in July at which time teams are formed and contracts are signed.
2022 Proposed Teams and Tournament Schedules
Regional teams: 12's, 13's, 14's, 15's: 5 RMR Power Tournaments plus the RMR Showdown Tournament over President's Day weekend.
National teams: 13's, 14's, 15's, 16's, 17's: 5 RMR Power Tournaments, RMR Showdown or Colorado Crossroads National Qualifier Tournament plus 1 out of state tournament.
Elite teams: 14's, 15's, 16's, 17's, 18's: 5 RMR Power Tournaments, RMR Classic Tournament (tentative), Colorado Crossroads National Qualifier Tournament plus 1-2 out of state tournaments. The 18's team season ends in March.
 Power Tournaments are typically held on Sundays starting Jan. 5 through April 26th.  They usually run from 8:00 am – 4:00 pm 
The Rocky Mountain Region (RMR) Tournament sites are announced the week before the tournament.
Players are expected to attend every practice and every tournament except in the case
of contagious illness or family emergency.
There will be tournaments over Spring Break and potentially on holidays.  Families need to schedule Spring Break travel after the tournament schedule is announced.  Players on travel teams will likely miss some school days; the expected maximum is 3 days of school.
For travel tournaments, players travel with a parent or a trusted adult arranged by the parent.
The 2021-2022 Fees will be included with your contract.  Payment plans are available through the SportsEngine system.  Keep in mind these fees do not cover travel costs, uniforms, added tournaments, post season, USA Volleyball Membership for the 2022 Season ($58) or the Registration fee.
In regard to COVID protocol, Flatirons Volleyball Club will continue to work closely with Boulder County Health.  We will take into consideration Boulder County Health's recommendations and follow the rules set forth by BCH.
Over this past year, we've learned that COVID can surprise us with changes that are often announced with very little advance notice.  At this time, all plans continue to be subject to change.
Flatirons VBC participates in the Grocery Gift Card/Rewards programs.  Safeway rewards participating customers with 5% of eligible proceeds going back to the player.
The King Soopers reward rate is closer to 2% for customers who enroll in their program and submit reports of rewards to Flatirons on a quarterly basis.
We're looking forward to a terrific season and we'd love for you to join us!
Please direct questions to Director Susan at flatironsvbc@gmail.com